News and Updates
Rappahannock Family Physicians is a proud participant in Heart of Virginia Healthcare and Medicare's Million Hearts® initiative. We are working together to prevent a million heart attacks and strokes.
Here are helpful resources.
CDC Control and Prevention - What You Can Do                              
Healthy Eating & Lifestyle Resource Center
Heart360®  - Understand and track the factors that affect your heart health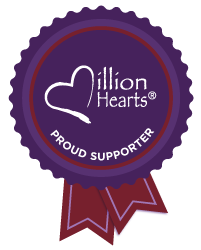 Bring your entire family to one of Fredericksburg's "Best in the Burg" family health clinics. Rappahannock Family Physicians, with multiple doctor's office locations in the Fredericksburg, Virginia, area, is proud to offer gentle and in-depth care to patients of all ages and medical backgrounds. With an easy-to-use patient portal available so you're able to access your medical records online, we offer the highest levels of convenience in all our clinics.
Learn more about our providers and schedule an appointment in any of our locations throughout the area. Our friendly family physicians are happy to provide for all your health care needs.
Our online request an appointment feature , via our Patient Portal, is for patients who would like to schedule a future appointment and is not intended for same day appointments. If you need an appointment today, please contact practice directly.
Covering All Needs from Sick Visits to Physicals
Is your child getting ready to enter school for the first time, start playing a sport, or just not feeling well? Our clinic providers handle everything your family needs when it comes to preventative medicine and common illness. Whether you're coming in for annual sports physicals or sick visits after coming down with the flu, we're here for you.
If your child needs to come in for a sports physical, be sure to bring a completed VHSL form, which may be downloaded from our patient forms page. Sports physicals are generally required by all public schools before your child can start playing a sport, so be sure to schedule a visit in time.
Convenient Hours for Your Busy Family
Every family has a different hectic schedule. Between the adults' work schedules and the children's school and play schedules, it can seem impossible to find the time to visit the doctor's office. Because it's vital that children and adults alike keep up-to-date on their preventative medicine appointments, we offer flexible hours and multiple locations for all our patients.
In addition to evening hours and walk-in clinic appointments at all locations for sick or well visits, our Fredericksburg office also offers weekend appointments for sick visits. If you or your children need to be seen on a weekend, you must schedule an appointment ahead of time.
Allergy Testing Now Available at RFP!
Do you experience any of the following symptoms more than twice a year?
Cough
Difficulty Breathing
Congestion
Runny Nose
If you answered yes, you could be suffering from allergies. Ask your Rappahannock Family Physicians' Provider if you are a candidate for allergy testing.
Bring your entire family in for routine check-ups, wellness visits, sports physicals, and other preventative medical needs.